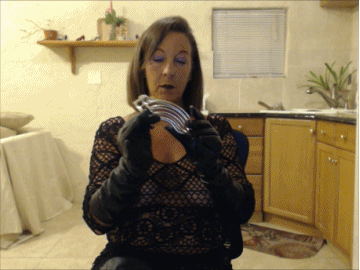 If you have ever read any of My writings or listened to any of My Femdom videos or recordings, you know that I am a firm believer in males being kept in chastity by the Woman in their life! I especially enjoy combining the elements of a slave farm with the idea of all males there being kept in chastity.
I take you down into a relaxing state as I have you visualize the slave farm. There is excitement and a lot of activity on the slave farm but of course, you are not privy to what is happening. Then everyone is summoned to the barn. It's dim and dark and you can almost smell the mustiness of the hay. I command you to kneel and ask when is the last time you orgasmed?
Not since you have been on the Farm of course! I inform you that today is the day you will be locked in chastity and your cock and balls will now be under MY control! I give you directions for jerking off and you will cum in this glass. As you hold your own cum in your mouth, the chastity device locked on! This recording features elements of
chastity,
orgasm control, JOI, CEI, cum eating instructions, jerk off, masturbation instructions, femdom, female domination
Mind Control
Need more Femdom? Click Here!