I have just recorded My first two new videos of the year! These two are brand new and cover two of My favorite subjects…Mind Control and Chastity! I so enjoy Femdom Hypnosis and have found it to be very effective whether on the phone or in person.
Femdom Hypnosis
Mind Control: Craving My Gift of Pain $19.99

Wearing only an eye catching spiked bra that shows off My breasts and deep eye shadow that enhances My beautiful blue eyes, My voice slips seductively through your mind as I relax you completely putting you down into a deep state of trance. But today that is not enough. Today I put you into a dream state where in your minds eye you will see yourself serving Me. Kneeling in front of Me...feeling the leather of My shoes as you kiss them. Feeling the restraints as I place them on your wrists and ankles. You will feel each stroke, you will feel My nails as I run them across your back. It feels so good to please Me, to suffer for Me. Soon your nightly dreams will be filled pain filled and you will begin to crave My gift of pain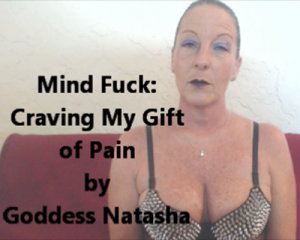 Chastity
Chastity: Surrendering Control $7.99

Dressed in a soft leather top that shows off My beautiful breasts, I speak to you about surrendering control of your sexual activities! After all, you know that I believe all men should be kept in chastity with a Woman holding the key. The psychological aspects of chastity cannot be obtained unless you have no access to the keys!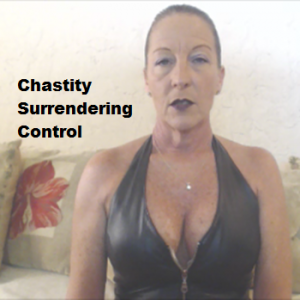 Of course you can call Me on Niteflirt for live Domination!