Body Worship
I consider any type of body worship an extreme privilege for a slave. Even though it may be an act that is sexually gratifying for Me and something I enjoy, a slave must earn this honor. While I thoroughly enjoy face sitting as well as ass worship, as a professional dominatrix, these activities have never been listed in contact advertising or on My website (s) as an act that I engage in with the submissives who might contact Me. These privileges, face siting and ass worship have always been reserved for those I consider to be My personal slave. Even the honor of giving Mistress a foot massage or being allowed to give Her a full body massage is not granted to everyone and anyone. If you are ever granted permission to perform any of these activities at My direction be assured that I am pleased with you.
Face Sitting & Ass Worship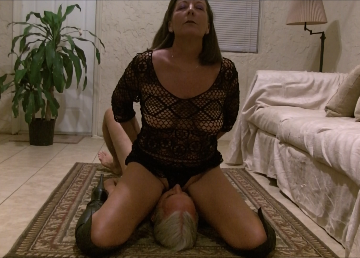 It has been a long time since I did a ass worship video with a slave and he was just lucky enough to be able to serve Me! First you get a view of the back as I am Dressed in a see through dress, tiny G-string and thigh high leather boots, first he is granted the privilege of worshiping My beautiful ass as I smother him and sit on his face. Nice view of My gorgeous ass as I use his face. Then I turn so you have a front view of My breasts through My dress as I continue using his face and allowing him to worship Me.