Kicking
One of My favorite acts to indulge in while playing with a submissive is kicking. Kicking with a few stipulations that is. I HAVE to be wearing thigh high boots...I HAVE to be dressed in leather and I have to be attracted to the slave that I am doing the scene with.
Fortunately, a slave of Mine that has been serving Me for close to 20 years fits this description. Both of us have an EXTREME love of leather! So I am always dressed completely in leather...from gloves to boots. At times in a leather catsuit, other times in a leather dress and sometimes in a leather corset with a skirt.
I find it so very erotic and not because I find it a form of humiliation or degradation. It's primal maybe. It's violent...and of course, it is painful! But also because of all those lovely bruises ~smile~ Again, someone and something to feed My sadistic streak..
Have a Wicked evening!
Goddess Natasha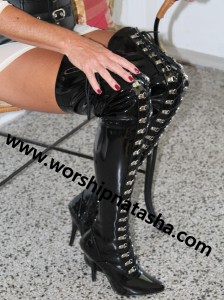 The boots I am wearing below are one of My favorites to wear for kicking impact play
For Femdom Videos Including those on Kicking
Visit My listing.